«
I Love Light (Ojai)
|
India's Independence Day No. 64
»
August 6th, 2010
The soundtrack to Qurbani has to be considered an Indian (and Pakistani – because of Nazia Hassan) national treasure.  I couldn't tell you the plot of Qurbani – I was too young.  But the movie poster/album cover with Zeenath Aman and of course, order Nazia Hassan on vocals on Aap Jaisa Koi Meri and Laila O Laila basically emblazoned on my young brain an early definition of sexy and glamorous.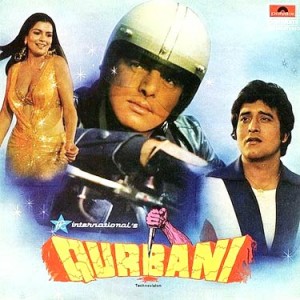 Still haven't heard a Bollywood song today that lives up to this deliciously sweet number.  Enjoy!  And don't miss those boots!
This entry was posted on Friday, August 6th, 2010 at 9:32 pm and is filed under India. You can follow any responses to this entry through the RSS 2.0 feed. You can leave a response, or trackback from your own site.