Archive for August, 2010
|
August 15th, 2010
I got an email from my uncle Alu in Delhi this morning reminding me it was India's Independence Day and I struggled to figure out what it meant to me personally. It was a sunny Saturday in Los Angeles and I was primarily preoccupied with how to fit yoga and a trip to the farmer's market into my schedule before noon.
But when I got the email, gynecologist the first thing I thought of was Gandhi – not in his celebrated image – but Gandhi, the young, vulnerable outsider in South Africa and in England. It struck me that the man who so greatly influenced India's liberation and post-colonial identity had his most formative experiences as an immigrant — an Indian living outside of India.
He put up with physical assault in South Africa (not pressing charges) and burning social slights in England – but all that went into the philosophy he was building. This was a man who for better or for worse tried to assimilate and did a pretty great job of it. He read all the right books, and wore all the right clothes to fit into Western society.
Did his search for an independent identity, not fully Indian, not fully western, impact his quest for the independence of a nation? What does Gandhi as immigrant mean for those of us living in the west, who have equivocal ties to India – sometimes feeling not quite 'legit' and other times feeling a strong pull homeward, even if we're not quite sure what home means.
I felt welcomed by the opening remarks of India's president, Pratibha Patil, in her address yesterday.
My Fellow Citizens,
On the eve of our 64th Independence Day, I extend my warmest greetings to all of you from all walks of life, living in India and overseas…I also compliment every citizen of this country whose hard work, productive prowess and enterprising zeal have put India among the front ranks of the nations of the world.
I'm glad my life in LA was touched by this moment. It is equally ours. And India's future is as much our responsibility as that of our fellow citizens on the subcontinent. Full transcript printed in The Hindu.
August 6th, 2010
The soundtrack to Qurbani has to be considered an Indian (and Pakistani – because of Nazia Hassan) national treasure.  I couldn't tell you the plot of Qurbani – I was too young.  But the movie poster/album cover with Zeenath Aman and of course, order Nazia Hassan on vocals on Aap Jaisa Koi Meri and Laila O Laila basically emblazoned on my young brain an early definition of sexy and glamorous.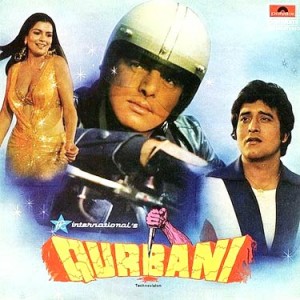 Still haven't heard a Bollywood song today that lives up to this deliciously sweet number.  Enjoy!  And don't miss those boots!
|